ALL IN-31 Days in Proverbs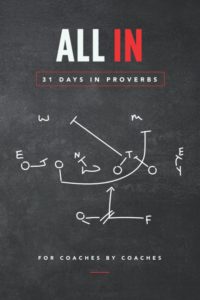 Proverbs 27:17 says; "Iron sharpens iron, and one man sharpens another. " This devotional was birthed from that verse and closely aligns with our mission to encourage coaches, athletes, and neighborhoods in their walk with Christ. I cannot think of a better way to live out that mission than 31 days in the Book of Proverbs and these devotionals written by your peers in the coaching profession for you.
We all seek to gain more knowledge and wisdom which begins only in The Word of God. The Book of Proverbs is full of wisdom to assist us in our daily lives. Our desire is for you to draw daily application as you read through the Proverbs, whether alone or in a small group.
Contact us if you are interested in purchasing 10 or more copies.